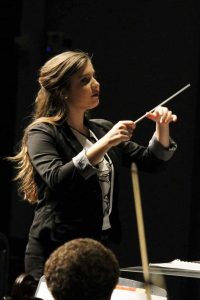 Rachel Orth is beginning her first year as orchestra director in Bexley during the fall of 2019, teaching grades 4-12 at the high school, middle school, and both Cassingham and
Montrose elementary schools.
She previously was a substitute music teacher in the Hilliard
City School district during the 2018-19 school year, jumping around between band, choir, and orchestra in the 6-12th grade classes, and taught as a drama educator within the Olentangy and Worthington school districts through Drama Kids International in Columbus.
Rachel graduated from Grove City College, Pennsylvania in May of 2018 with a Bachelors in Music Education and a specialty in Music Administration. Although a voice major in college, she has played viola since 4th grade, and has also been involved in band throughout her schooling, as well as a theater kid since elementary school.
Since moving to Columbus, Rachel began playing viola with the Greater Columbus
Community Orchestra, and has also become heavily involved within the music ministry at
her church.